Image Credit : Marketing Liverpool
Book Stunning Events & Weddings At St George's Hall, Liverpool
The Grade 1 listed St George's Hall sits within the heart of Liverpool in more ways than one. It is a place of congregation and celebration, offering a central location and a true sense of the city amidst incomparable surroundings.
A place where people come together to mark significant moments in time and which has been privileged to play witness to some of the most spectacular and memorable events in history makes this one of the most sought after event and wedding locations in Liverpool.
The Venue for Weddings
St George's Hall is Liverpool's landmark wedding venue, based in one of the finest neoclassical buildings in the world. This majestic location is full of rich history and elegance, with grandeur befitting your special day, and with an extensive range of stylish and glamorous licensed spaces providing an awe-inspiring backdrop for both wedding ceremony and wedding breakfast.
The impressive exterior and rich interior provide a wonderful range of opportunities for all your wedding day photographs, while the ornate St John's Gardens are situated on the west side of the hall.
The Spaces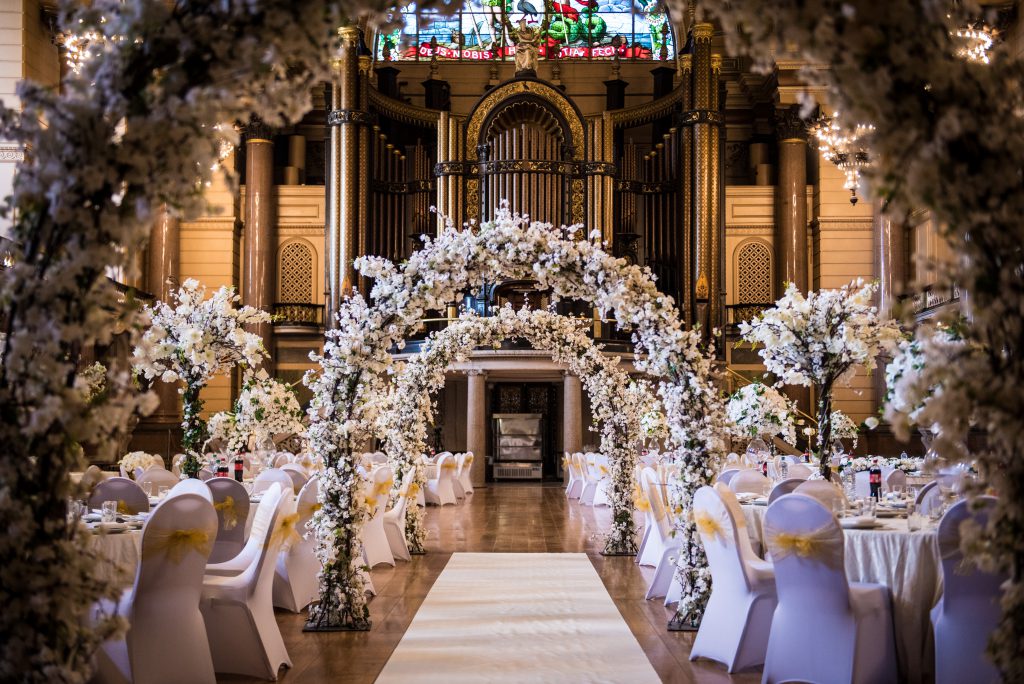 Image Credit : Keyhole Photography
The Great Hall
With its impressive chandeliers, huge bronze doors and marbled walls adorned with statues and stained-glass windows, The Great Hall oozes magnificence, leaving your wedding guests enthralled by its luxuriousness. It has provided an historic and stunning backdrop to thousands of prestigious events and is able to accommodate up to 600 guests seated for your wedding reception.
The Concert Room
Breathtakingly beautiful, the circular Concert Room provides a romantic setting for wedding ceremonies for up to 500 guests, while 88 guests can be hosted at your wedding breakfast, ensuring that your wedding can be as grand or as intimate as you wish it to be.
To find out much, much more, visit
https://www.stgeorgeshallliverpool.co.uk
If you would like to find out more about our wedding or event catering or decorating services for St. George's Hall Liverpool, please use the form below to contact us.